Does one of these sound like you?
You have a creative business (maybe it's being awesome at hand lettering, photography, coaching, or something else!) and you're ready to take the next step in building your business online and generating maybe even add another stream of revenue
You're really good at something and you always get the questions, "How'd you do that?!" or "Can you help me with this?" and you're interested in monetizing your passions
You've been working with clients 1:1 for a while now and you're interested in moving your programs to the online world
You've taken several courses and still feel totally overwhelmed with WHERE and HOW to expand your new business
Your eyes start to cross a little just THINKING about all that you 'need' to do to get your business going online
I totally hear you.
I've been in ALL of these spots! As a multi-passionate entrepreneur, I have a LOT of interests. When I decided to start business coaching other female entrepreneurs back in 2015, I created a few programs and worked with my clients 1:1.
I've spent thousands of dollars on other courses for myself, just to be in another land of overwhelm. I'd learn bits and pieces, but I didn't have a perfect system in front of me to take me from A-Z easily. To be honest, most courses I didn't finish because it was just TOO MUCH...so I'd take what I could from it, implement, and walk away still feeling like I was leaving money on the table.
After almost 10 years in the online world, running my own businesses for a majority of that time, I've learned A LOT about building an online business in a way that FEELS GOOD....not stressful.
That's why I created this course. To EASILY show you a roadmap to creating your business without feeling totally overwhelmed. It's easy, step-by-step, and dare I say fun :)
---
I've helped women earn their first $1,000 in their business, sign their first clients, land magazine deals, and quit their day jobs.
This experience has been AWESOME and quite frankly, one of the most fulfilling experiences I've had. I work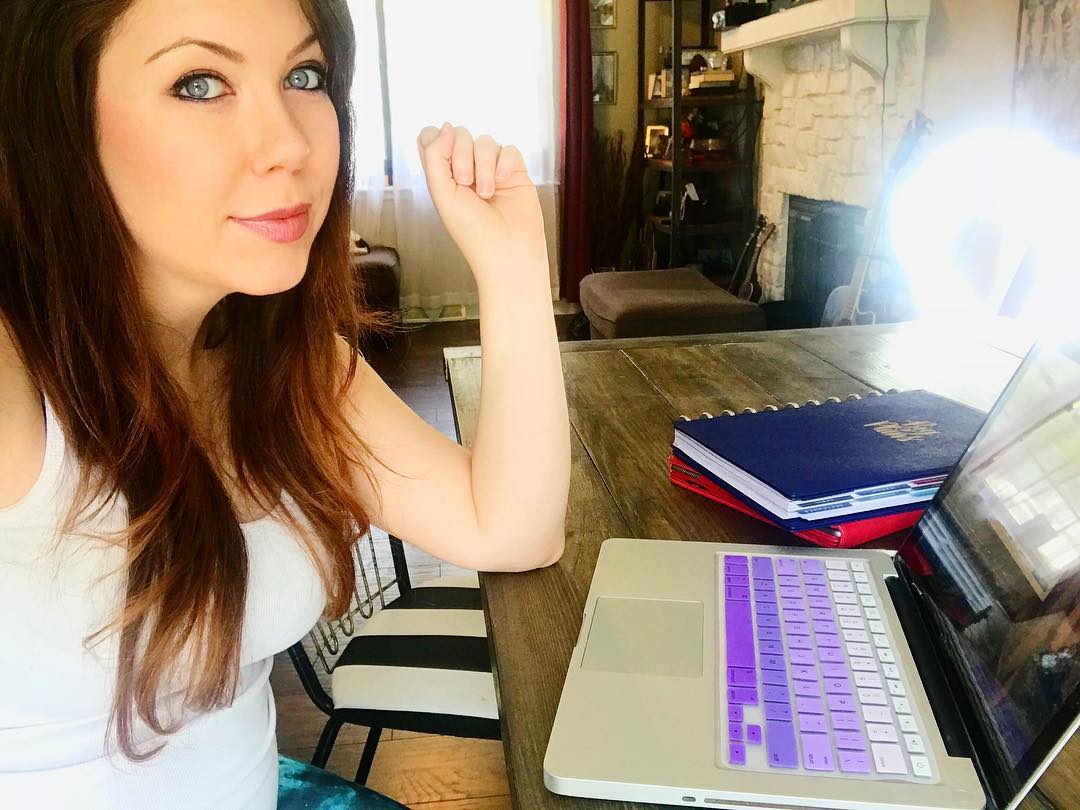 remotely (lots of times in my PJ's on my couch because #introvert) with women in Australia, the UK, Canada, Hawaii, and every place in between. We host calls via the internet and literally all I need now to run my business is Wifi.
Super cool, right?
When I first started my business, I ONLY worked 1:1 with my clients. I'd get my hands in their business and we'd create a marketing system that fit their goals perfectly.
The only problem was, I could only take on so many clients without totally feeling burnt out. Maybe you've felt this way, too? By only being able to take on X number of clients per month, I quickly felt my income become 'capped'.
I kept thinking, "If only I could multiply myself...."
After creating all of my programs, successfully selling them and watching my clients get results, I really got into the whole 'multiple streams of income' idea. I was watching women sell out webinars, courses, do HUGE million dollar launches and I thought, "Why not me?"
So I made the leap into the online space and I haven't looked back. There is SO MUCH potential online that it's CRAZY not to join in on the fun.
But maybe you're thinking, "GAH! I'm SO overwhelmed with where to start, HOW to get from A to B and so on!!"
I hear you.
That's exactly why I created this course. I was sick of watching people struggle building their online business. They'd get super confused, overwhelmed with the tech-y side, and frankly...I saw a lot of entrepreneurs give up.
I don't want that to be you.
You have SO many options when it comes to building your online business and bringing your offline knowledge into the online world. Let me help take away the overwhelm of that transition and show you step by step where to start with behind the scenes video tutorials, PDF downloads and more!
You'll even get a Sales Masterclass led by my husband who sells 10k-20k systems...and let me tell you, it's juicy.
I'm so glad you're here and I'm excited to be a part of your next steps!